Get your home ready for the holidays with help from Albuquerque Thoroclean – Part 3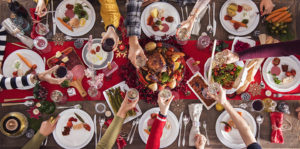 This post is the third in a series on tile cleaning and home tidiness tips for the holidays. If you haven't read parts 1 and 2 yet, I recommend you do before continuing.
Care tips for tile & wood floors
Tile and wood present a different set of challenges than carpet when it comes to maintenance and preventive care.
For wood floors, you might want to consider area rugs or runners for high traffic areas. This can save your floor in the areas where it's the most prone to wear. It's also a good idea to make a pass through your home and make sure there are plenty of sturdy places to set drinks, like tables, stands, and trays. Keeping them out of hand will decrease the likelihood of spills, but only if what they're sitting on is sturdy.
For tile surfaces in the kitchen, bathroom, and floors, you might want to schedule a tile cleaning before the big day arrives. At Albuquerque Thoroclean, we offer a scotchgard sealant that will help your tile and grout repel spills. While tile is actually somewhat porous, the grout is far more so. Stains can soak into and stain the grout much more easily than the surface of the tile. A good quality sealant will make sure you can quickly and easily wipe up spills. Check out our page on tile cleaning to learn more.
Get everyone in on the cleanup
Just like a holiday meal, cleaning up is a better experience when it's shared. And if not, at least it's a faster one. Assign the kids to pick up the dishes and trash, and grab a couple of the aunts and uncles lounging on the couch to help with dish duty.
Remember, Albuquerque Thorolcean is here to help with all of your holiday cleanup needs, from getting your home looking its best before the big day to cleaning up your home's surfaces from the ground up once everyone has gone home.