The Down and Dirty Nitty Gritty of DIY Albuquerque Tile and Grout Cleaning Explained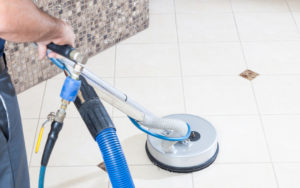 Professional tile and grout cleaners use an exact procedure to remove dirt and grime from the surface. The first step is to vacuum the floor to eliminate any dried dirt that may be there. To eliminate stains, they mop the floor. After that, your Tile and Grout will be thoroughly cleaned using a steam cleaner. The last step is to let your flooring dry completely. Your Tile and Grout will look dramatically different and improved after this procedure.
It's a great way to bring luxury and sophistication to your house or office. In addition, they are easily stained by the accumulation of dirt. When the quality and luster of your Tile and Grout begin to deteriorate, it is time to clean them. Many factors contribute to the buildup of grime on Tile and grout. Your tile and grout finish can be ruined by inadequately cleaning and mopping them regularly.
If you don't clean your Tile and grout, it doesn't imply you should avoid doing so. Maintaining cleanliness is important, but you must take the right precautions. Grout and Tile will eventually accumulate filth no matter how well you clean them.
Cleaning your floors is a job best left to the pros.
If you want to maintain your floors looking their best, you must attempt to clean them like the pros. This is nearly impossible for the normal person, as far as we're concerned. However, you may utilize a few basic actions and strategies to mimic the professional floor cleaning process.
Continue reading to find out how to keep your Tile and grout clean.
Why don't we look at expert tile and grout cleaning methods?
When it comes to tile and grout cleaning, the method used by professionals is quite thorough. As much dirt as possible is removed in each phase of this process. To help you decide if this is something you can accomplish on your own, we've outlined the complete procedure below.
Tile and grout cleaning is a multi-step process that includes the following:
Remove any dried soil from the floor using a vacuum to make it easier to remove.
Mopping — mopping your floors will remove any stains or deep-seated filth. Keep your mop water fresh by changing it frequently. Rinse your floor well after mopping it to prevent dirt streaks.
Steam Cleaning — a powerful steam cleaner is required for the steam cleaning process. Try to locate a steam cleaning device with a crevice attachment. Start with a small area and work around the nooks and crannies. The filth in between fractures is eliminated by doing so.
Once the tiles have been cleaned, they must be dried. This means that any traces of dirt that could have been left behind are now extinct. A lot of towels will be needed at this time. As a result, stock up on plenty of extras.
Tile and grout cleaners often follow a few of these basic procedures. So, attempting to clean Grout and Tile professionally without the necessary training or experience may not produce your desired results.
Hiring specialists is an option if any of the above processes seem time-consuming. Doing so will save you both time and money. The quality of the work performed by a professional tile and grout cleaning company is guaranteed. Consequently, you don't have to be concerned about poor outcomes.
You are maintaining the cleanliness of your Tile and Grout.
To maintain the cleanliness of your Tile and grout, you must wash it regularly. Deals on yearly packages are offered by most professional tile and grout cleaners to keep your floors looking their best at a reduced cost.
Understanding how professional tile and grout cleaners accomplish their job is essential to getting it done well.
Your house will appear and feel better if your floors are spotless. Clean your Tile and Grout as soon as possible after using it to prevent damage from dirt and grime. Use the knowledge and recommendations we've shared with you in this post to keep your floors looking their best. Contact ThoroClean now at 505-883-0437 to learn more about our tile cleaning services.